Let's break down the true meaning of accumulated wealth. Our analysis includes insightful information on net worth and income to help determine how you can attain wealth and become financially free. 
What is Accumulated Wealth?
Accumulating wealth is a key component for achieving financial freedom. We have accumulated wealth for a number of years but are nowhere close to where we need to be. You can decrease your expenses dramatically by living mortgage free. However, I am a firm believer in putting money to work in income producing assets as early as possible.
Accumulated wealth means your tangible, liquid net worth. Net worth is your assets minus your liabilities.
Accumulated wealth definition indicates a moment in which you are completely free from you daily, weekly and monthly expenses. One has accumulated enough wealth to live completely free and never work again.
Accumulating wealth takes time to achieve, but it is not hard. Hustle and patience can go a long way to achieving your financial freedom goals. These are several wealth creation tips that you ought to know.
Accumulated Wealth Strategies to Understand
What are the best ways to accumulate wealth? If you follow your own personal three step method for accumulating wealth you can achieve financial freedom in no time.
Be sure you automate your investing steps as much as possible. This gives you less strain and enables you to focus on the important things in life, like having fun! Or, traveling. Let's get down to it.
Our favorite accumulated wealth strategies include:
Increasing your income without investment
Maxing out your retirement contributions including your 401(k) and Roth IRA
After-tax dividend growth investing to increase income and build wealth by maximizing your total return
These strategies are proven, but not for everyone. Personal finance wouldn't be personal if it was easy to replicate for every single person in the world.
Let's not forget the word PERSONAL of personal finance. The best way to understand your personal financial situation is by signing up for Personal Capital.
The platform is extremely easy to use and offers the best of breed tools to monitor your net worth. I love the Personal Capital Retirement Planner.
This gives you the opportunity to understand several key personal financial ratios and your ongoing personal financial statement. This is extremely powerful.
Increase your income without investment
The digital age is upon us. You may see a common theme, but we truly believe that the world is interconnected more than ever before. A trade war can't stop a global economy that works behind the twines of the internet and web.
With that being said, the age of digitalization has enabled us to work whenever and wherever we want.
People are able to get hired by someone on the other side of the globe with the click of the button. Or, you can sell goods to someone with the click of a button. The barriers to entry to do what you truly love has never been this easy.
Focus on a few ways to increase your income based on what you have a passion for. For me, I love consulting clients to help them grow their businesses. I used freelancing as a method to double my income. Freelance consulting is a great way to build relationships, learn something along the way and make decent money.
If you need help thinking of ideas on how to increase your income, we have over 23 different online jobs without investment to help you start earning money online now.
Use the increased income solely as a way to invest more money into income producing assets.
The key point is WITHOUT INVESTMENT. We have other ways to invest the money. You shouldn't have to invest money to increase your income.
Max out your retirement contributions
The second step to accumulated wealth is maxing out your retirement contributions. From day one of starting your career, make it a point contribute the max amount to both your 401(k) and Roth IRA. By maxing out your retirement accounts, you set yourself up for the benefits of compound interest over the long-term.
"The best time to plant a tree was 20 years ago. The second-best time is today."
If you can't contribute the max amount to your retirement accounts, then at least take advantage of the employer match (if offered by your company). The benefits of compound interest will help you increase your income without working more.
Your financially free self will thank you.
If you transfer money from you checking, here is how routing numbers work. It's a pretty interesting process.
After-tax dividend growth investing
Let's digest a proven strategy of dividend growth investing for accumulating wealth over time. With after-tax dividend growth investing, an investor maximizes total return by receiving both dividend income and participates in the long-term equity appreciation from earnings growth.
Warren Buffett invested in Coca-Cola over 25 years ago. The stock and dividend has increased so much in value that Warren Buffett receives over a 40% dividend yield from his initial investment!
This means that if you originally invested $1,000 25 years ago, you'd receive $400 in annual income from dividends today from that same investment. I doubt Warren Buffett will ever sell a share of Coca-Cola.
For after-tax dividend growth investing, here are a couple of points to keep in mind:
Find a brokerage that you like and one that offers low-commission trading. There are a number of different sites out there that will allow you to trade completely commission-free.
Write down on paper how much you plan to allocate to the portfolio each month. Try to exceed that amount each month and increase it each year.
Make your initial investment in companies that you understand. Keep it simple stupid.
When you receive your first dividend payment, reinvest it back into your portfolio of stocks! Make sure you are fully invested always and continue to allocate your automated transfers. We are investing for the long haul… If the market goes down, we buy more!
Sit back and enjoy the show. Follow the plan and before you know it, your income will continue increase over time.
Want to understand how to build a dividend portfolio? We've constructed a fantastic guide on how you should build a dividend portfolio.
Have you accumulated enough wealth to retire safely?
Breakdown of Average Net Worth and Income
The way I have accumulated wealth is by focusing on simple strategies that are the most proven, tax-efficient and cost-effective. By accumulating wealth over time, you should think about building long-term equity. Make your money work for you and continue to produce income, which thereby builds wealth. This is the most effective affirmation of wealth. Here is a free personal financial plan example to help you.
Percentile of Net Worth by Median Income
Here's how to think about average net worth based on income:
According to the Federal Reserve, individuals (or families) with a top 10 percentile have an median and average income of $215,900 and $456,900, respectively. Check out the full study on the percentile of net worth.
Median Net Worth by Age
What about age for net worth? The Federal Reserve has a full breakdown of the average net worth by age. Here is a nice table the shows the summary of the findings for median and average net worth by age:
This is a scary chart from a personal finance perspective. The median does not show a logical transition of growth as much as we'd expect or need.
The fact that the median net worth is only $239,300 at age 65 is concerning…
Income and Net Worth by Percentile
Okay, this is all good and dandy, but what about net worth and income by percentiles.
Below is a chart of the average net worth and income by percentile to help us make conclusions on the appropriate accumulated wealth by age figures.
The data is shocking. Of the income and net worth multiples, the top 10 percentile is the highest multiple of all. If you divide median net worth ($2.387 million) by median income ($215,900), you reach a multiple of approximately 11.0x.
So, what is accumulated wealth? You have to strive for the top 10 percentile, so whatever your income is sought to obtain 11.0x that in the form of net worth.
The 75 – 89th percentiles show a median net worth and income of $605,000 and $90,800, respectively. This translates into a multiple of approximately 6.6x net worth to income.
If you average the top 10th percentile and the upper middle class, you are in the range of about 8.375x net worth to income.
So, what is it net worth or income? What is more important?
Well….. both. If you had to choose one, I would favor towards net worth since that should create income. If you are younger, then you'd have to lean towards establishing a solid base of income. That way you can attain your net worth goals.
Key conclusion to attain wealth
The key conclusion to accumulate wealth may sound easy and obvious.
Start early. Seriously. There is no way around it. In order to achieve your goals of building wealth over the long-term, you need to start now. There are two steps to attain wealth:
Continue to increase your income
Invest your income
Here are some of the other most proven ways to increase your net worth.
Let's prove these points out with some math…
Case study for building wealth
In order to achieve the top 10 percentile of net worth in the United States, you can follow these simple steps and you can live happily by age 45. Just 23 years of work. The steps include the following:
Start working a job at age 22 years old. Avoid making these money mistakes in your 20's.
Ensure that your income for your first year is $65,000. It doesn't have to be just one job, but ensure that you make $65,000 per year.
Save at least 30% of your pretax income for investments. For example, if you make $65,000 your first year then you save $19,500.
Invest the amount that you save in an index fund that earns on average 6% per year over the long-term. Historically, index funds have achieved this and beat this annual return.
What are the results? Here is our calculation of the wealth building case study:
There are a couple of considerations to be made here. People have debt obligations and other considerations, but this is a simple version of future asset value and the results of discipline.
In addition, some people may not be able to earn $65,000 in age 22 or certain individuals may not be able to save 30% of their pretax income each year. You can certainly save 30% of your pretax income each year. If you made $65,000 per year in your first year, then you'd be saving nearly the same maximum amount of retirement contributions. These are $18,000 per year. At $19,500, you'd save that with your employer match (if applicable).
What can you do to build wealth?
These are simple, yet effective ways to create wealth.
Continue to think of ways to increase your income. Find side hustles and passive income streams.
Cut your expenses that enables you to save this much per year.
This can all change as you focus on the important steps of income and net worth. Think of ways to make your income as high as possible while cutting expenses to save, save and SAVE MORE. What are you doing to build your personal financial statement? Do you know your own key personal financial ratios?
Personal Capital has a similar future value planning tools that tracks your current retirement savings. This is a free tool that enables you to build wealth effectively and monitor your accumulated wealth over time. It is very easy to link all of your accounts and is highly secure.
Here is what the Retirement Planner dashboard looks like: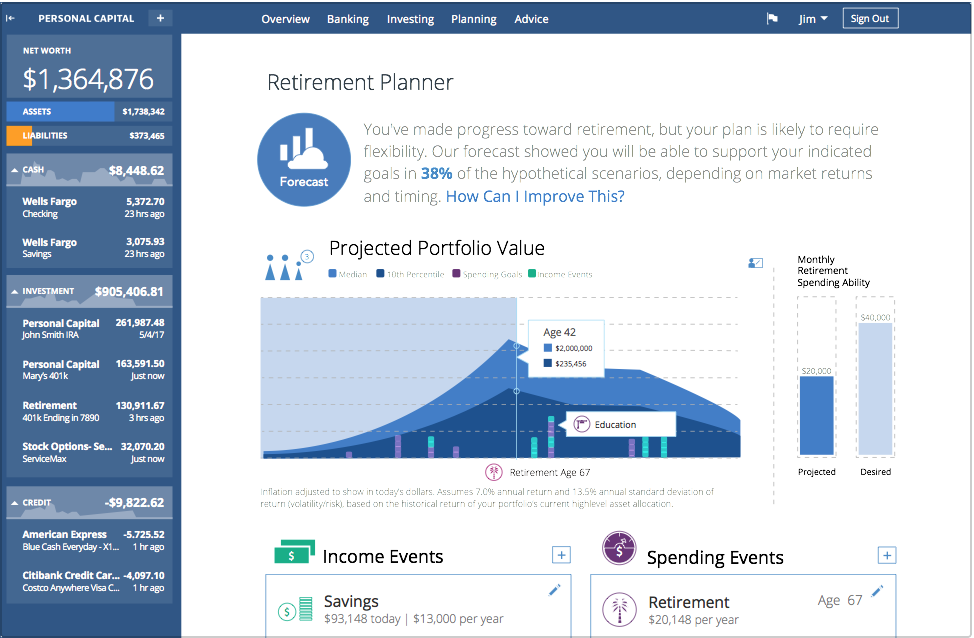 In addition, I believe the best way to accumulate wealth is to do so by owning a business. These millionaire farmers stayed passionate about their business and it paid off.
What are you favorite accumulated wealth strategies? Have you been able to accumulate wealth over time? Please let us know. We'd love to hear from you in the comments below.
See Also:
With both a million credit card rewards points and a million dollar net worth you can live a happier lifestyle. Subscribe to our newsletter to find out the best travel tips, dividend growth stocks, passive income ideas and more.
Join our community of over 3,000 mobsters seeking financial freedom. What are you waiting for?
Escalate Your Life.