Everyone loves traveling of course. But most of us are always visiting only popular places that everyone has heard of. Why not try out beautiful places that are gorgeous and hard to believe they exist? Yes, such unbelievably gorgeous places have the sights that leave people breathless. These are the 10 most beautiful places in the world that actually exist. 
To make the consideration of the most beautiful places in the world. These locations must feature the mystic that no one can describe. The awe-inspiring drama of viewing these locations and experiences. You must see these gorgeous locations once (at least) in your lifetime. One location that is not on the list that is extremely beautiful is Laguna Beach, check out our review of the Ritz-Carlton Laguna Niguel.
10 Most Beautiful Places in the World That Actually Exist
Traveling the world is important. However, finding beautiful locations is not as easy as you think. Millionaire Mob has been able to travel to a number of different locations from the benefits of credit card churning and manufactured spending (our intro to manufactured spending has some great tips).
Our list is always growing. There are too many great experiences in this world and our earth is beautiful. If possible, try to build travel rewards points.
This will enable you to go on some awesome trips for little to no cost.
I created a downloadable credit card tracker that will help you budget for travel and track your rewards points in a more efficient manner.
If you don't like travel hacking with credit cards, here are some helpful tips on how to participate in travel hacking without credit cards.
What Makes a Place One of the Most Beautiful in the World?
These most beautiful locations in the world have many similarities, but at the same time they are vastly different. I've created this list because of my love for travel and exploring. I have to create a bucket list of the most beautiful places in the world in order to cross these off my list and stay motivated in my travel goals.
I've seen a lot of places in my lifetime, but none are as extraordinary as these amazing places.
Here is what made these beautiful locations qualify as some of the most beautiful locations in the world:
Each location should inspire you to travel more
These beautiful locations are so visually appealing that pictures are hard to believe they are actually real
Most of these beautiful places are UNESCO World Heritage sites
Each location has a significant landmark, body of water or mountain associated with it
I love to book my travel with Booking.com. They have a great interface that allows me to book the best priced travel around the world. Find your next destination and go!
The world is changing and travel is becoming easier than ever before. Go out and see some (or all) of these beautiful places. All of these places are truly inspirational. Let's get into the 10 most beautiful places in the world.
Here are the 10 most beautiful places in the world that actually exist
Some of the world's most beautiful locations are hard to believe that they actually exist. These locations often feel majestic and ooze inspiration. Oftentimes, you are left without words. Let's get into our list of inspirational places in the world…
1. Punjab, India (The Harmandir Sahib)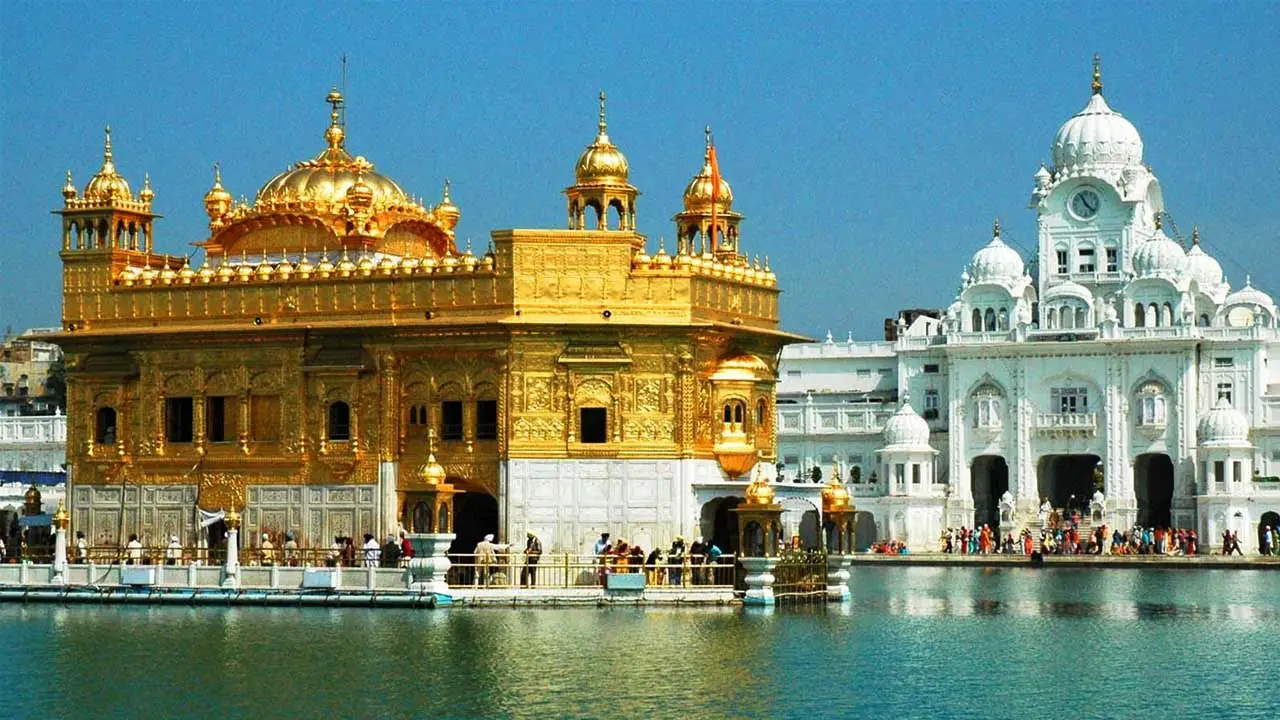 A state in the north of India, this region oozes magic. The culture here combines Islamic, Sikh, Buddhist, British and Hindu influences to create such richness in the views and glorious colors and sights. This is a place that looks lush and rich and this is because of the 'Golden Temple', so the whole scenery is marvelous. The Harmandir Sahib is the best landmark that India has, and, it is a holy site too.
You can reach it by going straight to Amritsar in Punjab of the Sikh region. It was started and fully erected in the 17th century and it had a renovation in the 1760s with restorations all over.  Your eyes will be filled with beauty from the magical entrances, gilded look reflected in the water – and such a palace also reflects humanity and peace, an energy that is hard to explain.
This temple even got awarded a Travelers' Choice Award. A white palace, a gilded palace, clear water and blue sky equals peace and calmness you must experience. Punjab is easily one of the most beautiful places in India and is on the list of top tourist places in India. Make sure to show up there early to see the sunrise and beat the crowds.
Explore India by backpacking around the country. There are so many other amazing sights to see.
2. Oruro, Bolivia (The Salar de Uyuni)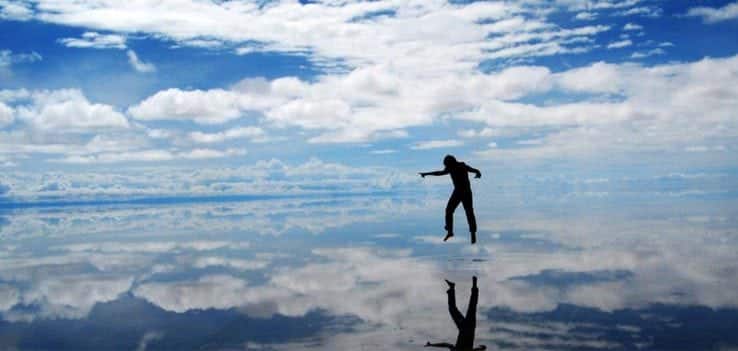 Have you ever seen or heard of a salt pan? Well, Salar de Uyuni has this magical salt pan that is spread all over 4,086 sq. ml. and is, in fact, the biggest such pan on the Planet. The Earth and gave Oruro this beauty, 'packed' so perfectly that it ranks among the most amazing places to see and visit on this Planet.
This is literally a mirror the nature that was created naturally out of wet spells and surface layers which are one of the dreamiest sights you could possibly imagine. As in the picture itself, try to imagine yourself standing or walking here, and you will feel as if like clouds are under your feet, literally. This exact salt pan is incredibly rich in lithium, naturally, or 70% of world lithium reserves are on this surface. This location also has some interesting flamingo species bred here that are not seen in other destinations.
Apart from this, Oruro attracts people all around the world for the famous Carnaval de Oruro which is a representation of the artsy and traditional dances and masks or the so-called 'diablada'.
You can actually take a trip from Chile to Bolivia that features some amazing sites.
3. Pacific Ocean, Ecuador (Islands of Galapagos)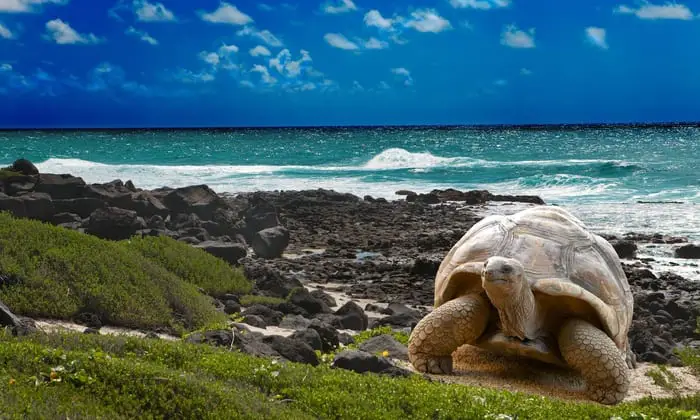 The Ecuador patch is located in the Pacific Ocean and is the host of these gorgeous islands which are the true gems of nature. Everyone can witness the beauty that is unspoiled with fantastic vibrant colors, so you won't believe your eyes. This place is famous for the volcano archipelagos and strange exotic animals and wildlife too – all of them spread over 3.030 sq. ml of an area.
In fact, Charles Darwin himself had explored this place for these species back in 1835 and his theories of the 'natural selections' were inspired by these sights and this location. Have you heard of Galapagos tortoises or Iguanas? Yes, they are right here.
These tortoises are huge and are protected with the help of UNESCO World Heritage of course. One cannot find the words to describe such a place. Don't be surprised if you see pelicans and albatrosses resting calmly nearby – this is common here and will make you feel strangely at peace and feeling awe.
Galapagos, with its capital Puerto Baquerizo Moreno, has a Marine Reserve and a National Park, but let's not forget volcanoes too! They are mostly plateaus of lava, but overall out of 21 volcanoes, it is believed that 13 are active.
See Related: 2 Days in Amsterdam Itinerary
4. El Giza, Egypt (The Giza Pyramids)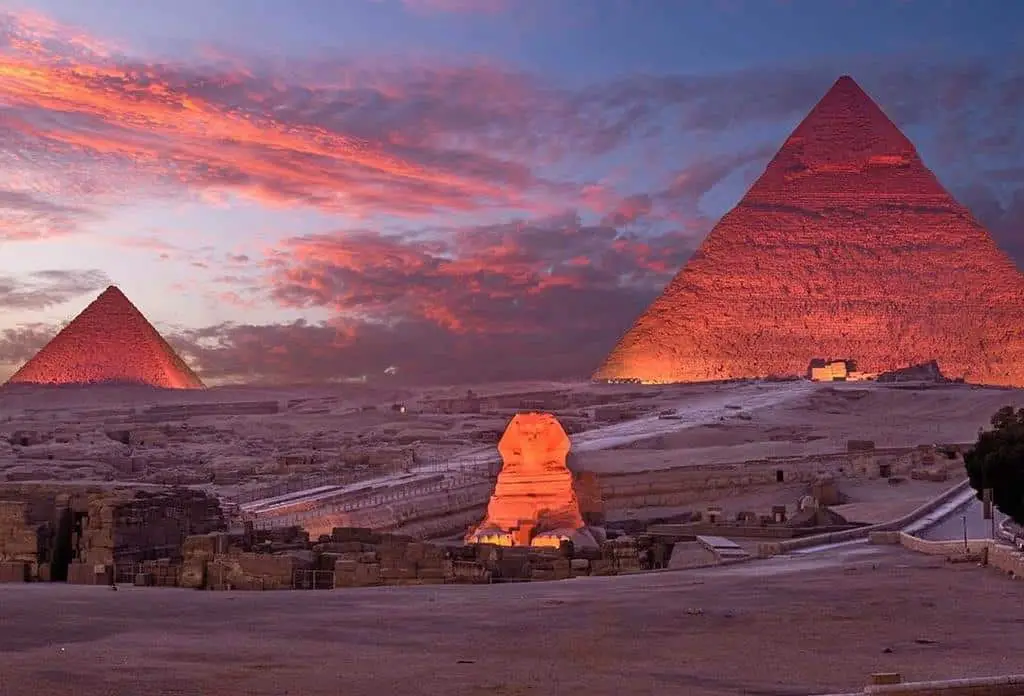 The pyramids are hard to believe that they are real in person.
We all have been at some time or still are fascinated by the timeless mystery and beauty of Egypt and its culture. When we think of Egypt, we always associate it with oriental music, hieroglyphs and the pyramids of course. So, why not see these magical pyramids? Prepare yourself for such a life-changing experience when you see the fiery red sun setting behind these architectural masterpieces.
There is a certain charm of romanticism and deep mysticism in such a sight because you will feel as if you went back in time to know more about this ancient civilizational beauty as the sun melts behind massive legendary architectural objects. No doubt, this surely is one of the dozen amazing places to see in Cairo Egypt.
Many things come to mind on this topic: how did those people build these pyramids? What determination did it take for them? How was it possible? Much more similar questions will pop up in our mind.
This monumental group of Giza pyramids has 3 pyramids and a Sphinx too in the front, with a human head (like a pharaoh) and cat-like body, calmly resting in front of the pyramids. It was believed by scientists that they were started and built circa the period 2560 BCE and the Giza pyramid was initially designed like a crypt version specially made for the famous pharaoh Khurfu who had ruled in the period between 2589 BCE to 2566 BCE.
Also, it is believed they were made of unbelievably massive stones that were dragged and set into places. Have you heard of the Seven Ancient World Wonders? This pyramid is one of them on that list.
This glorious sight is standing to this day. Ask anyone that has been here and all the answers will be 'unbelievable, strange, inspiring, powerful energy that is overwhelming and magical, taking over anything around'. What makes it so interesting is that it represents a grave for the Pharaoh (and nobody can enter inside), but it's also a place for items the Pharaoh would use in his afterlife.
Before you continue marveling at all other destinations (at least in this article for now), there is a huge factor to consider – the budget. But, no need to worry if the budget is a bit tight. Now in this day and age, we all have many possibilities to visit a lot of places and still have some money left.
Regardless if such places are cheap places to travel to, there is always the option to seek some tips and advice with the help of AwardMapper for accommodation that fits into your budget and will not empty your wallet in a second.
5. Arctic Ocean, Norway (The Svalbard)
Another phenomenon all people heard of, the Northern Lights. And they are right here in Svalbard. This archipelago in Norway is almost at the same distance from the point of North Pole as it is directly from Norway. Back in the 1600s, this was, in fact, a whaling station. Some statistics say that the first Norsemen of the 12th century were inhabitants here, and now it still has inhabitants even though it is labeled the most northern place on the Planet where people can actually live.
Speaking of livable and amazing places, right? The fauna here is mesmerizing and normally, there are reindeers, Polar foxes, marine mammals, walruses, seals, dolphins or polar bears too, but also fiords and mountains that add balance to the scenery of nature and wildlife. Even Daily Telegraph in 2014 has ranked this place as one on the list of places that are life-changing when seen.
Many things can be done here for fun as well; some fossil hunting or seeing the Northern lights famous worldwide (AwardMapper consultation of course and this phenomenon is planned out, which means there are cheap places to travel to only if you plan the budget well).
See Related: Best Travel Hacks for Visiting Japan
6. Paro, Bhutan (The Taktsang Palphug Monastery)

Paro Taktsang must be on the list of 10 most beautiful places in the world that actually exist. Here is why. This place is magical and sacred because all Buddhist monks gathered here for their meditation, up high on the Himalayas retreat for their own peace and serenity. The Taktsang Palphug Monastery is located right above Bhutan, or its Valley Paro.
The origins of this site are dating back to 8th century, however, the building of this temple was completed in 1692 by Gyalse Tenzin Rabgye. Legends and mystery wrap up this secluded place and always will. There is even a legend that says how back then, a person named Guru Rinpoche was mounted on a tigress and was flying in the air this way to reach this location. There, he declared this cave to be sacred or rather 'with an evil spirit inside'. Because of this, Rinpoche has meditated extensively there and this is why the Taktsang Palphug is sacred for Buddhists; supposedly he meditated for 3 whole years, 3 months, then 3 weeks, 3 days, and finally 3 hours.
The Taktsang monastery has 13 caves or 'tiger lairs', the so-called 'taktsang' (when translated). This monastery was even mentioned on a list for the best experiences of a lifetime, and this is deserved of course. Apart from this monastery, this place also has the famous 'Tshechu' festival or if translated, 'day 10' that is held annually and shows religious themes and costumes of this region.
7. Malta (Gozo)
A small piece of land which is a small Heaven. This cute island belongs to the archipelago of Malta located in the Mediterranean Sea. By size, this is number 2 by size in this archipelago.
This small and gorgeous place of Gozo has a rural charm to it, beautiful hills and pristine beaches. Some myths, legends, and scripts even say that Homer's Odyssey was started right here. This place might lack mountains or forests and rivers, but the royal blue water, sandy beaches, and views are compensating for it.
The cliffs are breathtaking with layers of sedimentary rocks on the west. The shape of the cliffs is breathtaking and the place is popular for tourism. The rock formations are artistic-looking and the place is literally as we said, a small Heaven. Malta is one of our favorite places to visit.
See Related: Restaurant vs. Cafe (Including How to Choose Between the Two)
8. Belize, Honduras, Central America
With influences of Mexico and Guatemala, Belize is a must see. Of course, since the Caribbean Sea is on the east, who wouldn't see this? Stunning coral reefs and amazing sights. This was the place where the origins of the Mayans started, which makes it more interesting.
Wildlife consists of more than 5000 types of vegetation and plants, macaws, jaguars, snakes, armadillos, monkeys and more. Or in other words, over 70 coral types, 500 fish types and hundreds of other life forms.
Belize also has a Cockscomb Basin Wildlife Sanctuary for its flora, fauna, and waters. The beaches leave people speechless; all colors seem as if they are edited in Photoshop! The Water is crystal clear and deep blue, perfect sand, the sunset that hugs the palm trees and beautiful views.
The Great Blue Hole is the thing that is a Paradise for divers and water sports enthusiasts. At times, the stunning views at sunset merge with 'rainbow' colors at this destination. Another 'must see' on our list of 10 most beautiful places in the world that actually exist. Traveling to Belize is relatively easy for North American residents. If you are coming from Eastern Europe or Asia it may be more difficult. With the gorgeous oceans, there's plenty of coral reef to see as well.
See Related: How to Save Money for Travel
9. Madagascar (The Forest of Knives)
Why is this place called like this? No, there are no real knives here of course, but the vertical rocks are so sharp that they even resemble huge natural knives. And it is even more interesting that wildlife thrives here and in good conditions too, so there is a lot to see.
Who would've thought that such rocks would even have lush forests on top and in between? That is real too. Rare kinds of birds and some lemurs (even 11 different types!) are seen on these sharp rocks. Imagine knife-sharp rocks of grey color and a cute little white lemur standing on one of the rock tops – this is normal.
This place Tsingy is also called 'stone forest' and such rocks can even reach a height of 300 feet. Isolated and mystical in every way, such eroded limestone layers create a rather scary, but gorgeous view. The name is 'Grand Tsingy' and 'tsingy' when translated it means a place 'where it cannot be walked'. The hazardous beauty of our Planet that stuns with the unusual beauty it has – both vegetation and scary-looking rocks all at once!
10. Bagan, Burma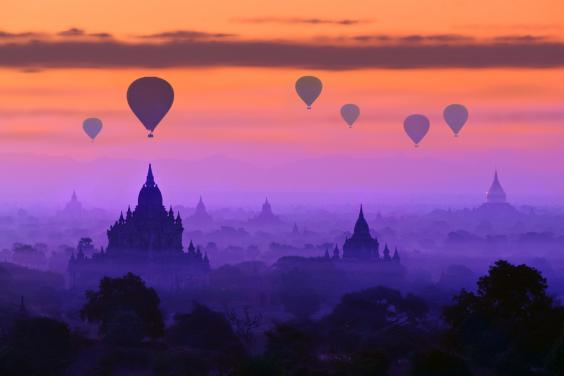 Bagan represents a city of ancient origin located right in the Myanmar region of Mandalay. Until the 13th century, this place was the capital city of the Pagan Kingdom. During this reign, more than 10.000 Buddhist temples and monasteries too were made on those plains, and now 2.200 remained to this day.
The so called 'hollow temples' are known for meditations and worshipping of Buddha, with Buddhist rituals. The Bagan plains are magical with fiery red soil, lush green trees and red temples all over the plains. The sunsets and sunrises here are unlike anything seen before. There's so much to explore in the Myanmar region. Consider these Myanmar travel tips if you end up making the trip.
The warmth of pink, orange, yellow and red in the sky will make the view intense, dreamy, romantic and 'pure'. There are organized hot air balloon rides at a sunrise time – a view like a fairytale. Even though an exotic place, it doesn't have to cost a fortune. With AwardMapper, the best offers and prices can be just a click away. You can check out the Taukkyan War Cemetery, which is one of the most visited war sites in Asia.
An extra destination (our Planet has way too many to stop at just 10 locations!)
Bonus Location! Hunan, China (Avatar Hallelujah Mountain)
China has a vertical pinnacle that was the original inspiration for so-called mountains that are floating, as in the movie Avatar. This sounds pretty much amazing we can all agree. Avatar Hallelujah Mountain is a truly stunning place and surely one of the 10 most beautiful places in the world that actually exist.
The 'floating' part makes this location number 11 of course since it couldn't be left out in any way. This is located right in the National Forest Park 'Zhangjiajie' and the location is just perfect for it. Awe-inspiring, with more than 3000 vertical pillars or also greenery that extends over hundreds feet height – this is fairytale, ancient, 'fantasy' magic!
One of those pillars, as an original name had the 'Southern Sky Column, which stretched across 3,544 feet up in the air. But, after the famous movie 'Avatar', as you suppose, this location changed its name. This is a fantasy land at its finest. Imagine 'floating' mountains, or at least mountain sections erected, and already there are goosebumps.
Here is how to explore China backpacking. Many people don't realize how amazing China is to backpack through.
What are your favorite unreal places on earth?
We've seen a lot of places, but have much more to see in our lifetime. These 10 locations are some of the most amazing places on earth. There's plenty of other locations in this world to see that would be considered one of the most amazing places on earth. Millionaire Mob loves to combine travel photography with travel experiences. What's better?
You can visit these 6 countries on less than $50 per day. I love budget travel. It allows me to see more.
There's nothing better than capturing the perfect moment from visiting a beautiful location. The ability to find inspiring locations can truly change your perspectives on life and provide wisdom.
Through travel hacking, I was able to visit the Minneapolis riverwalk. It is not as beautiful as these places, but it's pretty spectacular.
What would you add to the list? What do you think about our 10 most beautiful places in the world that actually exist? We'd love to hear from you in the comments.
Related Resources
At Millionaire Mob, we believe the new financial freedom is achieving a million credit card rewards and a million dollar net worth. Join our community to achieve both.
With both a million credit card rewards points and a million dollar net worth you can live a happier lifestyle. Subscribe to our newsletter to find out the best travel tips, dividend growth stocks, passive income ideas and more.
Join our community of people seeking financial freedom. What are you waiting for?