M1 Finance is a product that I can't believe I'm just discovering. I recently signed up. I'm wishing I could have gone back in time to fund earlier. I'm excited to give you my M1 Finance review. 
M1 Finance Review 2019: Commission-Free, Automated Investing
In our review of M1 Finance, we will highlight exactly how you can get started. I love the platform because it solved so many pain points that I have with investing large sums of money.
Given my schedule and keeping up with ways to increase my income, I simply can't invest my cash quick enough. That's a good problem to have.
I focus on a dividend growth investing portfolio with Robinhood that I continually add to my core positions of long-term dividend stocks.
Beyond that, I also want to have a broader taxable allocation to the stock market that I can just automatically add money to it and it will invest for me.
M1 Finance is like Robinhood + Robo-Advisor investing smashed together. After signing up, I'm obsessed. I don't view M1 Finance as a replacement to Robinhood for me. I view it simply as a complementary investment tool.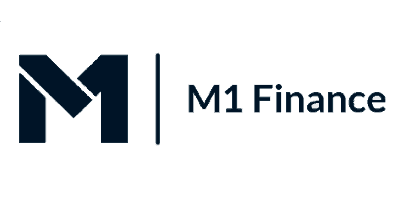 M1 Finance Overview
Based in Chicago, M1 Finance is an online investing platform that offers the commission-free robo-advising paired with individual stock investing. The platform will conduct automated features including rebalancing, recurring deposits, and tax efficiency.
You can elect to self-direct your entire portfolio in addition to the automated features.
Best yet, you can combine automated or even self-direct investing together… And this is all FREE of charge. By my standards, that makes it one of the best investing apps out there. We evaluated all the top investing apps to help you invest smarter.
You can open an account and start investing for as little as $100 (or $500 for a retirement account).
M1 Finance Fees and Features
M1 Finance is the most straightforward way to continually invest your money.
The easy to use dashboard and sign up can help investors open accounts in the following types:
Taxable Account
Traditional IRA
SEP IRA
Joint Account
Roth IRA
Trusts
Once you sign up fully, these accounts can get created in matters of seconds. You can add on additional accounts very easily.
Like I mentioned, you can invest all completely free and there is no minimum investment amount. Talk about not having any excused for investing now…
Some of the features of opening an account, include the following:
Dividends — All dividend income is reinvested back into your portfolio once it reaches at least $10. Take advantage of compound interest!
Tax reporting — M1 Finance can easily integrate into H&R Block and TurboTax.
Free consultation — You can easily gain access to a product specialist that will show you exactly how to use the platform to achieve your goals with investing.
Possible ETFs used — M1 Finance has over 1,500 ETFs available for you to choose from. In addition, there are over 6,000 different individual stocks that are available on the New York Stock Exchange or Nasdaq.
Account protection — Your money is safe since they are covered under the SIPC. The SIPC covers up to $500,000, including $250,000 in cash, in the event of broker failure.
M1 Borrow — M1 Finance allows for you to access a line of credit with varying rates. If you'd like to qualify, you must maintain a margin account with a balance of at least $10,000. This can be a great way to smooth out investments and get some extra return.
M1 Spend — M1 Spend is a feature that gives you access to an interest-earning bank account AND gives you cash back rewards on all purchases. M1 Spend is FDIC insured. This is an amazing feature as you can make your portfolio grow completely free of charge by earning interest on your checking account AND earning cash back. Reinvest all that extra money back into your portfolio and let compound interest work its magic.
How M1 Finance Works
Like I mentioned in the overview, M1 Finance takes a different approach to robo advising. They give you complete control over the investment process and can make changes after the fact.
Also, you can blend together a direct investing and robo-advising investment plan together. For me, that is very important.
As a pretty busy person on the go, I want to be able to continually put my money to work completely seamlessly.
You can easily auto-invest all your cash, auto-invest you cash over a set amount or even don't auto-invest cash at all. As seen below.
Investing in M1 Finance Pre-Built Pies
You can either create your own pie from scratch or choose from pre-built Pies in certain categories such as:
General Investing – Pick investment ala carte as you wish.
Plan for Retirement – Invest in a pre-determined Pie that allocates your assets for retirement.
Responsible Investing – This is a pre-built Pie that invests in impact-oriented companies that make a lasting difference in our future.
Income Earners (hey, dividend investors!) – Ability to increase your passive income by solely focused on income-focused investments.
Hedge Fund Followers – Follow hedge fund investments… Mimic the smart money completely automated.
Industry or Sector Based Pies – Target specific industries or sub-industries to take advantage of broader economic trends.
Just Stocks and Bond Allocations – Focus on stocks and bonds only, this would be similar to a 401(k) or ETF investing strategy.
Within each of these categories, there are several different specific Pies that you can choose from. There are sub-Pies within these categories.
You can see how any investor would love this. The possibilities are endless, completely free and automated (to the point of your leisure).
Creating Your Own M1 Finance Pie
I'll highlight below how you'll create your first Pie during the signup process.
However, here is an example of a fully customized pie by me. This shows the many options that you can create to build an investment strategy that is fully automated. Once I found M1 Finance, my head was spinning at the number of options. I was amazed.
I wish that M1 Finance would integrate more options to widdle down stock like a stock screener. This would be an easy feature as you'd be able to find stocks within your criteria like mine for finding undervalued dividend stocks.
Here is one M1 Finance Pie as an example. What if I loved private equity and wanted public access to private companies?
Private equity funds (like the public mega-funds) have been buying up small-to-medium targets with the plans to resell them at premium prices after conducting operational or financial improvements.
I can create a pie for that!
Here is a link to my pie for private equity exposure and an image of what that would get you.
The Millionaire Mob Private Equity Pie would give you diversified equal weighting exposure to the largest, most reputable private equity firms in the world, including:
BlackRock Inc.
Bookfield Asset Management
The Blackstone Group
The Carlyle Group
Apollo Global Management
Oaktree Capital Group
The Pie would kick off a nice yield of ~5.37% and would feature no fees at all. M1 Finance would automatically reinvest your dividends as fractional shares.
Here are several other M1 Finance Pie examples.
It's things like this that get my mind racing about M1 Finance. It's an investors dream. You can take advantage of broader themes in the market.
[maxbutton id="1″]
How to Get Started with M1 Finance
In order to start investing with M1 Finance, I'll show you exactly how to get your account set up.
In order to get started investing, you'll see a dashboard about 'pies' (I will get to that later).
Finance pies are how you will allocate your money going forward. This can all be adjusted over time.
After you click continue, you'll see how to manually create your first Pie. As you can see below, I selected five standard asset classes:
Vanguard Total Stock Market
Vanguard Real Estate
CurrencyShares Euro Trust
Vanguard Total Bond Market
SPDR Gold Trust
These four give me great exposure and diversification at a very low cost.
Create Your First Pie
This is a great option for the beginner investing or someone just getting started with M1 Finance. If this is for a retirement account, which M1 Finance has, this can be a great way to save money on retirement fees.
Check out and stay subscribed to my site to get more complex ways to build an M1 Finance Pie.
M1 Finance Pie Allocations
After you've made your selections (don't worry you can always change these later), you need to decide how you'd want to allocate your capital to your hand-selected pie. Here is how I would allocate the broader market exposure:
Vanguard Total Stock Market = 50%
Vanguard Real Estate = 20%
CurrencyShares Euro Trust = 15%
Vanguard Total Bond Market = 20%
SPDR Gold Trust = 5%
The pie allocation can always be changed or customized as you go, so don't worry.
Connect Your Bank Account
After you've input your allocations, you'll need to connect your bank account. I love how M1 Finance works with fully secure and integrated bank accounts, so you can transfer your money easily and safely.
You'll be invested in no time. Below is a dashboard of how you'll want to connect your bank account.
That is how you get started with M1 Finance. It's very seamless and easy to use. The interface is perfect for me.
Pros and Cons
Let's dive into a pros and cons analysis of the M1 Finance platform.
[joomdev-wpc-pros-cons disable_title="no" title="M1 Finance Pros and Cons" button_text="Start Investing for Free" disable_button="yes" button_link="https://millionairemob.com/m1finance" button_link_target="_BLANK" button_rel_attr="nofollow"][joomdev-wpc-pros]
Pros
Completely Free of Charge
M1 Spend and M1 Borrow
Fractional Shares
Automate Dividend Reinvestment
Insane Investment Customization
No Investment Minimum
[/joomdev-wpc-pros][joomdev-wpc-cons]
Cons
No Options or Futures Investments
Not Suitable for Active Trading
Limited Tax-Loss Harvesting (Let's Try to Not Invest for Losses)
[/joomdev-wpc-cons][/joomdev-wpc-pros-cons]
[maxbutton id="1″]
Conclusion on M1 Finance
I think M1 Finance is the perfect compliment to a platform like Robinhood. I believe that you can use Robinhood and M1 Finance together. M1 Finance is the perfect solution for the busy professional that simply wants to dump money into their account and allow it get put to work.
There have been so many negative reports about the limited customization Pies within accounts. For example, you can invest in two different pies within an account.
Well, there's an easy way around this. M1 Finance makes is very easy to create a new account. You could technically have two different M1 Finance accounts and each account would have a different Pie allocation.
With the rise of ETF investing, M1 Finance is in a way killing the ETF industry. Why? Because Pies can effectively become your own ETF. Not only that it becomes your own ETF without any fees at all. 
There's a high likelihood that I move significant money from sleepy, traditional brokerage accounts into M1 Finance. I think M1 Finance beats the other robo-advisor investing platforms. I still like Wealthsimple as an alternative to M1 Finance.
Check out our robo-advisor comparison for details on other accounts similar to M1 Finance.
Subscribe to the Millionaire Mob early retirement blog newsletter to find the investing tips, dividend growth investing, passive income ideas and more.
I created a dividend investing book called Dividend Investing Your Way to Financial Freedom that can show you exactly how to build a portfolio. Do it with M1 Finance!
Achieve the financially free lifestyle you've always wanted.