Moving is stressful. Moving is expensive, but it doesn't have to be. Here's how to move on a budget and save money.
How to Move on a Budget and Save Money
If you just landed a new job in another city or are about to pursue new opportunities in a more affordable metro, finding a new apartment and moving your possessions can feel like an adventure.
But the entire moving process can be expensive, especially if you expect to relocate several times in the next few years.
Follow these moving tips so you can change address as many times as necessary without blowing out your budget.
If you've developed a minimalist lifestyle, you might not need a lot to move.
9 Tips to Moving Cheaper
Let's get into some of the best ways to save money moving by doing things cheaper and easier for you.
1. Generate some cash by selling unnecessary items
It's a good idea to get rid of anything that you won't use in your new place before you move. Not only can you sell a few items to pad your wallet, but you'll also save money by having less stuff to move.
Start by itemizing anything you no longer need that might sell. It takes more effort to plan a garage sale than you might think, so try to sell any large or valuable items on websites like Nextdoor or Craigslist.
Plan a tag sale for the remaining items with enough time to advertise it in advance. Donate any unsold items to a local thrift store. It's a great way to make some money for doing nearly nothing.
2. Figure out your moving budget and the most affordable time to move
It helps to have numbers in front of you when making a pricey decision, so after your tag sale, set a budget for the move. If you don't have tons of cash to spend on professional movers, you don't have to move everything singlehandedly.
Select services piecemeal so you get just the help you need for a smooth and effortless relocation. Also, if you can choose, consider moving during the off-season, usually the winter months, when movers are less busy and will require lower fees.
Making the best choices about where to spend your limited budget will take a bit of planning. Once you've built your budget, think about your household expenses going forward.
3. Hire out only the services you can't do yourself
Understanding what is available and how much a service costs can help highlight where you can get the biggest bang for your buck. Depending on your circumstances, you may be able to pack your stuff, but not drive to the new location.
Perhaps your start date at a new job limits the time you have. Using your unique parameters, set priorities for what you need the most during the move.
For example, you can pack everything yourself and drive a U-Haul to your new apartment, or you can pack everything into a container, and have it delivered to your new location.
Combine the options of packing, loading, driving, unloading until you can meet your time and dollar constraints.
4. Save a lot of dough on moving supplies
Packing your belongings is the easiest way to save money on a move. You can generally find gently used packing paper and moving boxes from a friend or neighbor. If that doesn't pan out, buy recycled boxes from a moving supplier.
You'll need more than a few boxes and some packing tape to protect your belongings during a move.
Hit up a thrift store for old blankets to use as sofa covers and padding, then repurpose on arrival to protect floors or slide large items.
Collect twine, rubber bands, sheets of cardboard, and bubble wrap. Purchase or make a stretch wrap wand with a rotating handle to quickly secure items.
See Related: A Guide to University Account Service Problems & Solutions
5. Prep big pieces to minimize space needed
Dismantle any furniture by removing all of the knobs, feet, shelves, drawers, racks, and legs. The sleeker footprint and uniform dimensions make it easier to load and allow you to hire a smaller truck or container for transport.
Keep and attach the owner's manual for hard-to-assemble pieces of furniture, so you have it when it's time to reassemble. Attach all screws, nuts, and bolts to the item in a clearly labeled, sealed plastic bag.
Having all of the directions and hardware handy will limit the amount of time it takes for helpers, paid or otherwise, to reassemble.
6. Minimize supplies by using belongings creatively
Fill dresser drawers with neatly stacked clothing and secure them with plastic wrap instead of using separate boxes. The drawers function as safe containers without adding extra supplies to your shopping list.
Likewise, use blankets and clothing as packing materials inside boxes to minimize the amount of bubble wrap and paper you need. For fragile items, it's worth investing in bubble wrap and sturdy boxes.
Though expensive, it's less costly than replacing precious items. Call your insurance company to make sure your renters' insurance covers these valuable items during transport.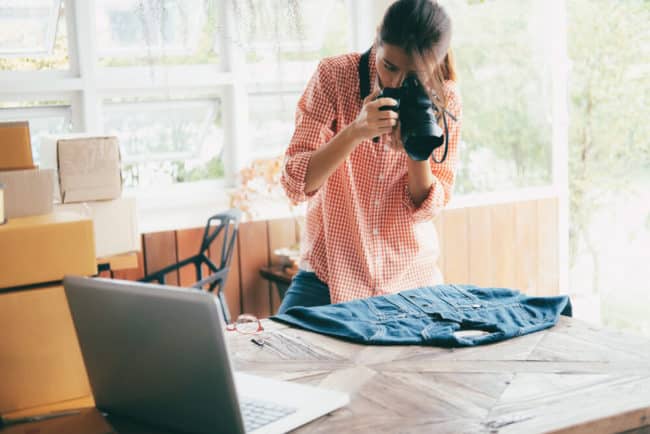 7. Hire movers to load and unload only
Having help on the day of the move is priceless, but don't depend on your friends to volunteer their services. One service that's worth the investment is experienced movers who know how to load and balance a truck or container so that they won't topple during the ride.
If you're moving to a large city with limited parking or a walk-up apartment, beware any fees that might surprise you by getting a thorough quote including storage fees, parking permits, fuel surcharges, or any other charges. Ask for a quote that reads, "Not to exceed."
See Related: How to Save Money on a Night Out
8. Rent a truck or container
There are several rental companies that specialize in renting large trucks you can drive to your new home. You'll need to pick up the truck, load it, drive it and unload it quickly to limit the number of rental days. Remember you're also on the hook to fill up the gas guzzler, so add that to the cost estimate.
If you don't want to drive an unwieldy, unfamiliar vehicle, opt for a container pod. Choose the size you need online and arrange for delivery to your address. Take your time loading and ensuring the contents are balanced, then arrange for pickup and transport.
If you require storage before it's delivered to your new address, you can specify that in the order. Choosing just the right size and having the flexibility to load the container over several days allows you to minimize any hired help.
See Related: Important Financial Emergencies to Prepare For
9. Set aside a bit of money for unexpected expenses
No matter how well you plan, moving is stressful and surprising. Whether you end up buying pizza for helpers or having to replace a broken internet router, you will definitely have a few unplanned expenses during the move.
Security deposits, tips for the movers, last-minute purchase of bubble wrap – whatever it is, moving is expensive.
Limit the damage to your pocketbook by prepping pieces for uniform sizing, packing creatively and with reusable materials, and scheduling things like container delivery and utility hookups carefully.
If you are moving because you are buying a new home, your future self will thank you for saving on moving expenses.
Once you're happily moved into your new home, the memories of paper and boxes will disappear, and you can start enjoying your new adventure. You can then start improving your house with these energy saving products.
Conclusion for Moving on a Budget
Moving on a budget is possible by using technology and remaining savvy during your planning process. Trim the fat before you move by getting rid of large, unnecessary items.
This can help you live a more simple lifestyle in your new home.
Plus, you won't need to pack as much stuff. This will save you significant time over the long-haul.
How will you move on a budget? Let us know in the comments below.
Related Resources
Author Bio
Nicky is a Communications Specialist for RENTCafé.com, where she researches and writes about real estate, interior design, and all things that spark renters' interests. She also handles content collaborations. When off work, Nicky keeps busy raising two tiny humans and day-dreaming about traveling the world.