One of my favorite and most successful forms of passive income is helping individuals and small businesses. I love learning and creating things from scratch. Thus, the opportunity to create modern, sleek pitch deck presentations gives me the opportunity to accomplish both (learning and creation). The best pitch decks out there feature these 10 slides. Use our infographic as a template to ensure that you're startup is positioned for the best pitch success.
I'd like to provide a free infographic on key slides to create a 10 slide pitch deck. Keep in mind there is no one size fits all approach to creating an amazing pitch deck since each industry, problem and leadership team is different. Focus on a core, simple pitch deck template at the onset. Then, refine the details to include industry or company specific items.
Best Pitch Decks: 10 Slide Pitch Deck Template & Infographic
The best investor pitch decks feature simple slides that are clear, concise and to the point. A modern pitch deck doesn't try to explain every aspect of the business in one document. When you go to an investor pitch, you will likely want to speak on a number of topics. This is the time for you to showcase your skill set. Investors love that rather than the data itself.
With venture capital investing, the investor is investing in the management team and the solution to a problem. The best pitch decks have enough information in there to help guide the presenter through a successful outcome. They aren't investing in a profitable business at this point.
Venture capitalists are investing in the ability for someone to execute on a problem. If you want to make your dreams a reality and obtain financing, then you need to hit the ground running successfully with a modern pitch deck. Here are 10+ financing options to consider for your business beyond venture capital.
I've been creating decks through freelancing. Here are several freelancing websites for your to consider.
First off, what is a pitch deck?
A pitch deck is a brief presentation created using PowerPoint (my favorite), Keynote or other software. This is usually a key opportunity or elevator pitch to someone in an abbreviated manner. The presenter needs to be crisp, confident with their delivery. Pitch deck presentations are usually conducted during face-to-face meetings or done through online meetings to attract investors, customers, acquisitions, partnerships or even potentially other founders.
Time is limited in pitch deck presentations. Therefore, simplicity is key. You need the right details in the presentation to be crisp and present effectively.
How long will you have for your pitch deck presentation?
You should give ten slides in twenty minutes (approximately 2 minutes per slide). Sometimes you will have an hour time slot. Do not be the group that takes too much time rather than too little. Leave ample room for Q&A. The best pitch presentations do not drag on and get into the weeds of the business.
There's an opportunity for that during due diligence.
What formatting should you use in your pitch deck presentation?
Use a company standard text that is easy to read and sleek. You do not want to have a font that contains letters that are hard to read. Use larger font sizes to avoid any confusion or ability to distract delivery on any item. The best pitch decks are highly professional and simple.
There's been plenty of dissecting done on the most successful pitch deck presentations to venture capitalists. Lydia Dishman did a fantastic job analyzing AirBnB, YouTube, BuzzFeed and more.
Don't try to be like AirBnb, however. Be yourself and showcase what makes you different.
Best Pitch Deck Infographic & Template
Here is a pitch deck infographic to help guide you through how to create a pitch deck for your investor presentation.
A 10 slide pitch deck can hold enough information to pique the investor's interest and keep them focused on you. There's no right or wrong answer in terms of length of a pitch deck. I like to consider 10 slides in a pitch deck as a starting point. From there, you can then add additional slides that you think you may need to have.
A modern pitch deck is not supposed to be very long. You are likely going to be in a meeting.
Just make sure you get your point across.
Tips for Creating a Pitch Deck
Here are a few tips for creating the best pitch deck and ensure a successful meeting. After reviewing some of the best pitch decks structure and outline, these are my favorite tips that you should implement while creating your pitch deck.
Be yourself
Showcase your talents and why they should invest in YOU, the management team
You need to show your problem AND your solution
Encourage dialogue, venture capitalists and investors love idea generation
Do not be too wordy, stick to the point
10 Slide Pitch Deck Template and Infographic
Here is our pitch deck infographic to help you use as a template for success.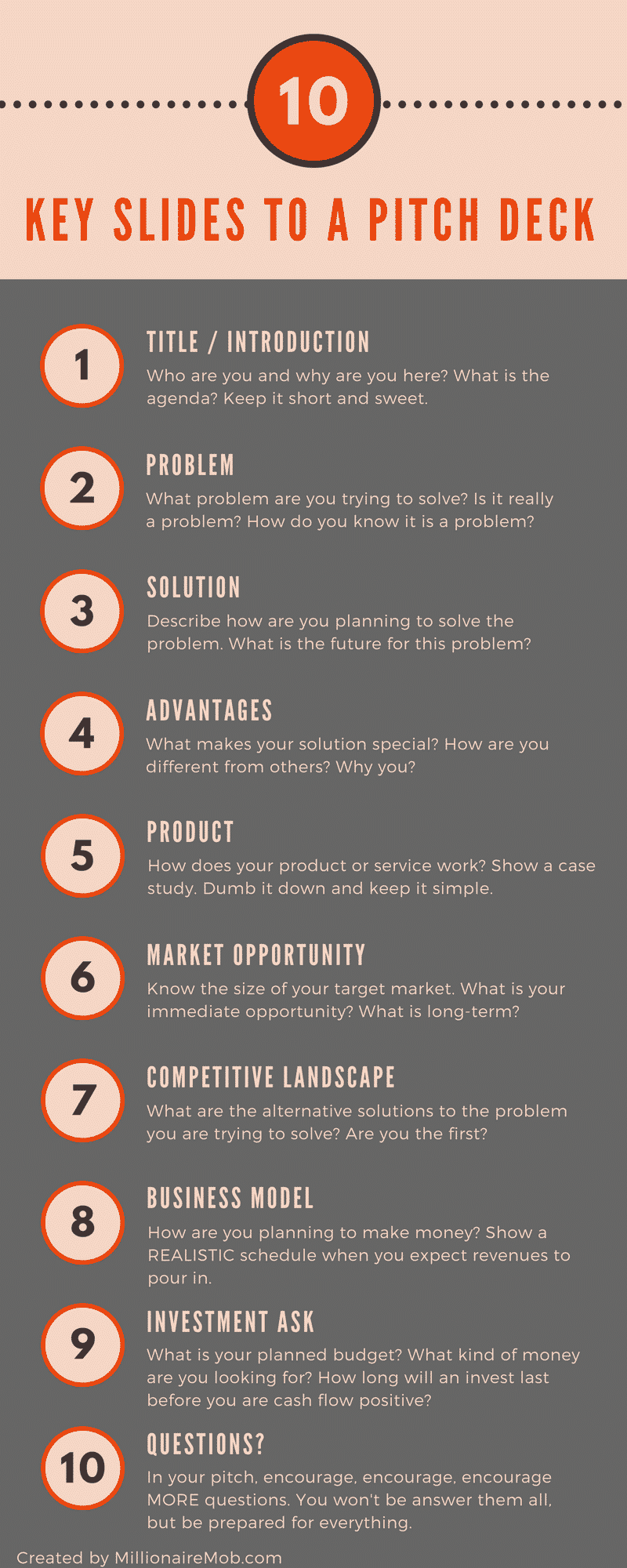 Best Pitch Deck Examples
Here are some of the best pitch deck examples that lead to successful fundraising rounds. These are some of the three best pitch decks used in an investor fundraising round. I'm sure you've heard of these companies before.
1. Airbnb Pitch Deck
Here is the original Airbnb pitch deck for you to review. It's fascinating to look at Airbnb's pitch deck because it really shows how much they grew up as a company. Also, it shows that your problem doesn't need to be solved at day one. Launching a business is a navigation. Find what works and continue up from there.
You can learn so much from the Airbnb pitch deck. It's one of my favorite pitch decks of all time.
2. Buzzfeed Pitch Deck
Here is the original Buzzfeed pitch deck that helped them raise significant venture capital. With Buzzfeed, they were raising venture capital in an age where media was dying. They did a great job of illustrating their problem and solution.
3.  SEO Moz Pitch Deck
SEOMoz was just a tool that would eventually shape and create an industry in search engine optimization. Here is SEOMoz's pitch deck.
What do you like about these best pitch decks of all-time? I hope you find these helpful with your planning process for investor presentations.
Conclusion on a 10 Slide Pitch Deck
I can't tell you how many times people try to raise capital by using an advisor for venture capital raising. Venture capitalists want to hear from the management team. Not some financial advisor. The best pitch decks out there showcase the team, the problem and the solution. These are the core components to a successful pitch presentation.
It doesn't matter if this is used for investment purposes or internal purposes. These tips can apply to both. In fact, you probably learn more about your business from an investor pitch deck than you ever could during an internal meeting.
Here are some of the key considerations after reviewing some of the best pitch decks:
Get your point across early
Use eye-catching design to look professional
Illustrate the problem and why YOU are the solution
What do you think needs to be included as the best pitch deck? What are the best pitch decks in your opinion? Leave your comments below.
See Also:
Subscribe to the Millionaire Mob early retirement blog newsletter to find the best travel hacking tips, dividend growth investing, passive income ideas and more. Achieve the financially free lifestyle you've always wanted. Follow me on Facebook, Twitter and Instagram.
Join our community of over 3,000 mobsters seeking financial freedom. What are you waiting for?